While today was all about Macs with Apple Silicon, the M1 chip in those Macs is likely based on the A14. AnandTech today dove into the A14, found in the iPhone 12 and latest iPad Air:
In the overall mobile comparison, we can see that the new A14 has made robust progress in terms of increasing performance over the A13. Compared to the competition, Apple is well ahead of the pack – we'll have to wait for next year's Cortex-X1 devices to see the gap narrow again.

What's also very important to note here is that Apple has achieved this all whilst remaining flat, or even lowering the power consumption of the new chip, notably reducing energy consumption for the same workloads.
One further note is the data of the A14's small efficiency cores. This generation we saw a large microarchitectural boost on the part of these new cores which are now seeing 35% better performance versus last year's A13 efficiency cores – all while further reducing energy consumption. I don't know how the small cores will come into play on Apple's "Apple Silicon" Mac designs, but they're certainly still very performant and extremely efficient compared to other current contemporary Arm designs.
Apple chip team continues to lead. Increased performance without increasing power consumption is no small feat. And again, this is looking at the A14 in the iPhone 12. The M1 chip in the new Macs no doubt build on this, which is why those Macs can claim such performance increases while reporting almost double the battery life for operations with previous generation Macs.
The performance numbers of the A14 on this chart is relatively mind-blogging. If I were to release this data with the label of the A14 hidden, one would guess that the data-points came from some other x86 SKU from either AMD or Intel. The fact that the A14 currently competes with the very best top-performance designs that the x86 vendors have on the market today is just an astonishing feat.
In the overall SPEC2006 chart, the A14 is performing absolutely fantastic, taking the lead in absolute performance only falling short of AMD's recent Ryzen 5000 series.

The fact that Apple is able to achieve this in a total device power consumption of 5W including the SoC, DRAM, and regulators, versus +21W (1185G7) and 49W (5950X) package power figures, without DRAM or regulation, is absolutely mind-blowing.
One thing I love with AnandTech are their charts. Their benchmarks of the A14 against typical PC silicon are amazing to see. And Apple is doing that with a chip that uses a fraction of the power. If Apple were to scale their designs into something that did use 20+ Watts, you can imagine how it would handle such benchmarks.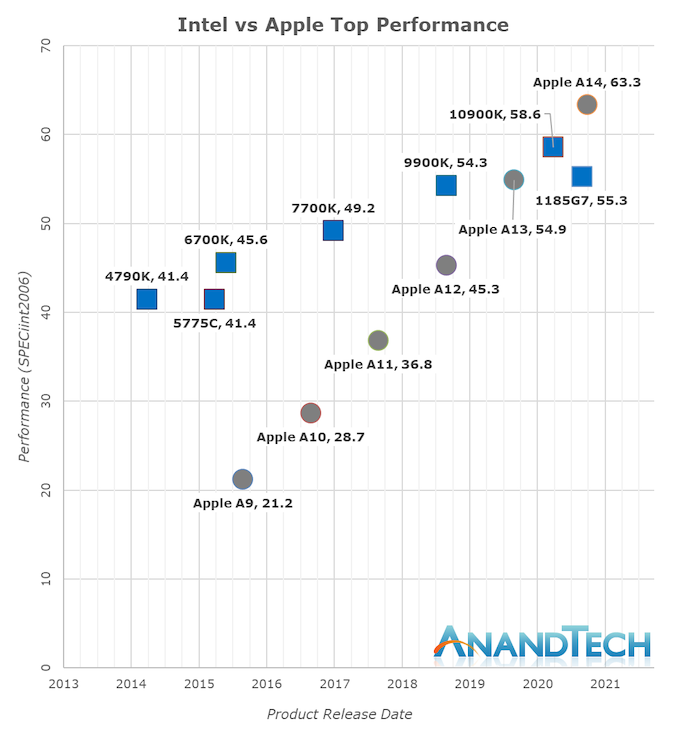 Whilst in the past 5 years Intel has managed to increase their best single-thread performance by about 28%, Apple has managed to improve their designs by 198%, or 2.98x (let's call it 3x) the performance of the Apple A9 of late 2015.

Apple's performance trajectory and unquestioned execution over these years is what has made Apple Silicon a reality today. Anybody looking at the absurdness of that graph will realise that there simply was no other choice but for Apple to ditch Intel and x86 in favour of their own in-house microarchitecture – staying par for the course would have meant stagnation and worse consumer products.

Today's announcements only covered Apple's laptop-class Apple Silicon, whilst we don't know the details at time of writing as to what Apple will be presenting, Apple's enormous power efficiency advantage means that the new chip will be able to offer either vastly increased battery life, and/or, vastly increased performance, compared to the current Intel MacBook line-up.

Apple has claimed that they will completely transition their whole consumer line-up to Apple Silicon within two years, which is an indicator that we'll be seeing a high-TDP many-core design to power a future Mac Pro. If the company is able to continue on their current performance trajectory, it will look extremely impressive.
The future of the Mac is exciting.
Apple claims the M1 to be the fastest CPU in the world. Given our data on the A14, beating all of Intel's designs, and just falling short of AMD's newest 5950X Zen3 – a higher clocked Firestorm above 3GHz, the 50% larger L2 cache, and an unleashed TDP, we can certainly believe Apple and the M1 to be able to achieve that claim.